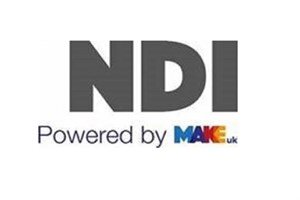 Hellios welcomes the partnership with NDI supporting their members across the Aerospace & Defence industry to demonstrate their compliance and meeting of regulatory requirements to the Prime Contractors in JOSCAR. Tom Maund, Defence Sector Manager said its fantastic news and we look forward to working closely with them.
Andrew Kinniburgh, Director General, NDI – powered by Make UK writes
NDI (or National Defence Industries) was originally set up by the North East Development Agency to help North East based companies to collaborate to win work in defence supply chains. Today, NDI is approaching several important milestones. 20 years of operation, 300+ members, a true national membership from every corner of the UK and its development from a supply chain membership body to a 'full service' defence trade association as part of the Make UK family of businesses. NDI's 'parent' Make UK is run by former Head of DTI-DSO, Stephen Phipson CBE so we are fortunate to benefit from the experience of a seasoned defence industrialist. Andrew Kinniburgh (NDI's Director General) has many years of experience across the UK Defence and Security industry and internationally and Kelly Maddison, Senior Account Manager has run NDI's very successful Meet the Buyer events for several years and is a seasoned supply chain campaigner. NDI is now recognised nationally by the MOD, alongside Tech UK and ADS as representatives of the UK Defence Supply chain and we sit on various committees and forums with MOD and industry colleagues. We were delighted to welcome Hellios Information into NDI membership this month and we are also currently working towards JOSCAR accreditation ourselves so we shall be hopefully soon join the growing JOSCAR membership. We are also very pleased that we can offer JOSCAR membership at nearly 50% reduced rates for NDI members. Since lockdown we have taken our business on-line and we are about to the run our second virtual Meet the Buyer, following a well-attended Land Systems event in April. 24th June is our Maritime Meet the Buyer and we are kicking off with a webinar which brings together Brigadier Ben Cheeseman (CTO, Royal Navy) and Jim Carter (Commercial Director, Submarine Delivery Agency) to talk about current and future technology, systems and programmes. Buyers include; BAE Systems, Navy X, QinetiQ, MOD and many others. If you would like to know more about NDI or to consider joining please contact kelly.maddison@ndi.org.uk. Also have a look at our weekly Defence Insights update. This includes the latest news from UK defence and detailed updates on our meetings and interactions with MOD and government more generally.