Hellios Information and BAE Systems have launched a collaborative decarbonisation programme to help aerospace & defence companies and their suppliers calculate and reduce their Scope 3 carbon emissions. JOSCAR Zero collects, measures and identifies how carbon emissions can be reduced across supply chains. It builds on the existing JOSCAR system, a collaborative tool which helps connect suppliers of all sizes with buyers, who can then quickly determine if a supplier is 'fit for business'.
BAE Systems supported the development of the tool and will be the first company to introduce it into their supplier management process.
JOSCAR Zero was developed by Hellios Information in response to the government's pledge to a 100% reduction of greenhouse gas emissions by 2050. It marks a significant milestone in the defence, aerospace and security industry's ongoing commitment to achieving net zero by 2050. The new programme is set to reshape how supply chain carbon emissions are assessed and managed.
This groundbreaking addition to Hellios' existing system, empowers the JOSCAR community to quantitatively measure and reduce their carbon footprints in a clear and consistent way. By doing so, it enables companies to take proactive steps towards net zero while encouraging a culture of environmental consciousness.
By integrating JOSCAR Zero into its supplier risk management, BAE Systems is demonstrating its commitment to driving positive change on the path to net zero by mitigating environmental supply chain risks and actively championing a sustainable future for the industry. The JOSCAR Zero team will be supporting all suppliers and especially SMEs to help them reduce their emissions with practical guidance and support.
James Clare, Director of Levelling Up, the Union, Climate Change and Sustainability (LUCCS) UK Ministry of Defence said: "Responding to the challenge of climate change within Defence is a team effort between Government and industry. Collaboration will be integral to reducing carbon emissions, so I am encouraged to see new partnerships being created to find solutions, such as this between BAE, Hellios and their suppliers."
Amanda Wood, Supply Chain Sustainability Director at BAE Systems, said: "We're aiming to reach net zero across our value chain by 2050, something that will only be possible through close collaboration with our customers and suppliers.
"JOSCAR Zero will play a significant part as we work alongside our suppliers to reduce carbon emissions. It is an innovative solution that will set new standards within our industry and, as the inaugural adopter, we are proud to show that environmental responsibility and operational excellence can go hand in hand."
Colin Maund, CEO of Hellios Information said: "JOSCAR Zero's collaborative approach measures, manages, and cuts carbon emissions in the defence supply chain. Through community efforts and targeted advice, it builds on JOSCAR's successful system, reducing redundancy and enhancing visibility. We're especially mindful of supporting smaller suppliers throughout this process.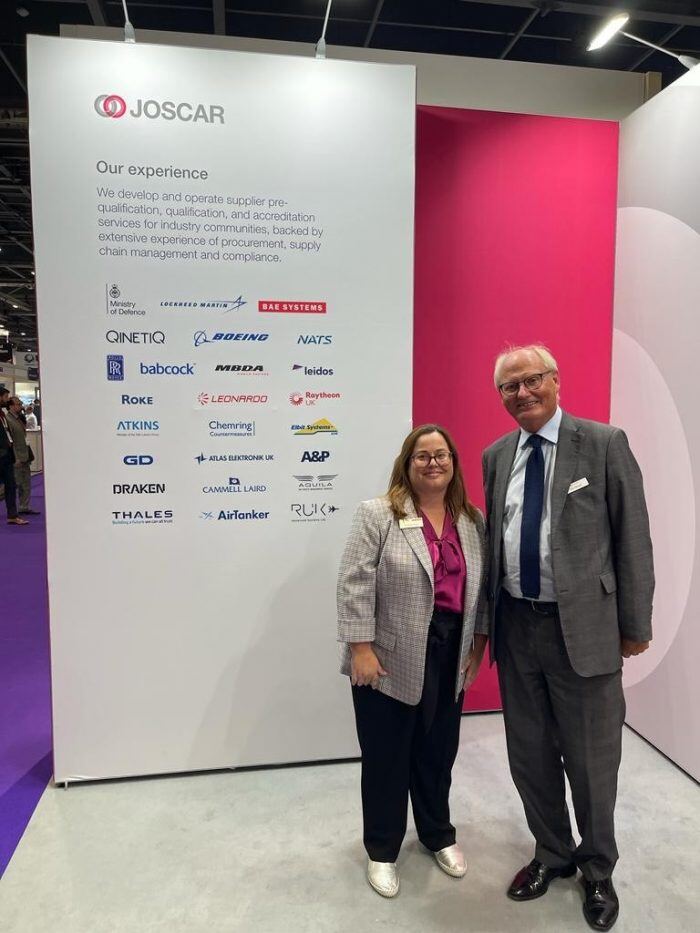 For more information about JOSCAR Zero please contact:
Becca Poole
Sector Manager – ESG
Hellios Information
becca.poole@hellios.com
More information about JOSCAR Zero for Buyers click here.
More information about JOSCAR Zero for Suppliers click here.
About BAE Systems:
At BAE Systems, we provide some of the world's most advanced, technology-led defence, aerospace and security solutions. We employ a skilled workforce of 93,100 people in around 40 countries. Working with customers and local partners, we develop, engineer, manufacture and support products and systems to deliver military capability, protect national security, and keep critical information and infrastructure secure.
About Hellios Information:
Hellios is a supplier information and risk management company operating in the financial services and aerospace defence and security industry. The business has grown rapidly from a start-up in 2012 to more than 60 employees and a turnover of more than £5m with subsidiaries in the UK, Ireland, Netherlands, and Spain. For more information, please visit hellios.com.