Third Party Risk Management and Compliance for the Financial Services Sector
FSQS (Financial Services Qualification System) is a community of financial institutions including banks, building societies, insurance companies and investment services, collaborating to agree a single standard for managing the increasing complexity of third and fourth-party information needed to demonstrate compliance to regulators, policies and governance controls.
Benefits for buyers
EASIER REGULATORY REQUIREMENT

Comprehensive, accurate and regular updated insight into third party risk.

SINGLE SOURCE OF TRUTH

Thousands of third parties in a single, searchable, reportable and easily accessible system

REDUCED PROCUREMENT TIMESCALES

Instant access to third party information, reducing the time needed to qualify new suppliers or renew contracts.

HIGH QUALITY VALIDATED INFORMATION

We check all third party information in accordance with a consistent, objective and continually updated process

COST AND RESOURCE EFFICIENT

Costs are shared amongst community members, significantly reducing the cost of an in-house solution

PEER NETWORK

Access to the combined experience and resources of other members in the community with shared goals and challenge
Benefits for suppliers
EASIER CUSTOMER COMPLIANCE

Simpler route to demonstrating compliance to multiple customers at the same time

RESOURCE AND TIME EFFICIENT

Single profile for multiple customers, information request is tailored to goods and services being supplied

SIMPLER APPROACH

Information is collected using selectable answer options rather than free text responses, making completion quicker compared to traditional questionnaires

CONTROL YOUR INFORMATION

Your company information can be amended or updated at any time through a secure online portal

BUSINESS IMPROVEMENT

Identify the common requirements of multiple customers and how your business might improve its compliance

FASTER QUALIFICATION

Completed profiles are visible to all buyer members using FSQS when sourcing and qualifying third parties for new business
How it works
One of the key aims of FSQS is to ensure that the information that suppliers and third parties are asked to provide to their clients is proportionate to the types of goods of services being supplied. A dynamic three-stage process is used to ensure that the process is tailored, and therefore as efficient as possible.
Stage 1 collects basic information about a supplier or third party to produce a profile on their legal entity, financial status and the nature of goods and services being supplied. This information allows an inherent risk assessment to be performed to determine if Stage 2 is needed in order to collect more detailed information.
Stage 2 requires the completion of a more detailed questionnaire along with supporting evidence, such as policies and certificates. To make the process as efficient as possible, only questions relevant to the nature of goods and services indicated in Stage 1 are asked, and most of the questions have selectable answers rather than requiring lengthy written responses.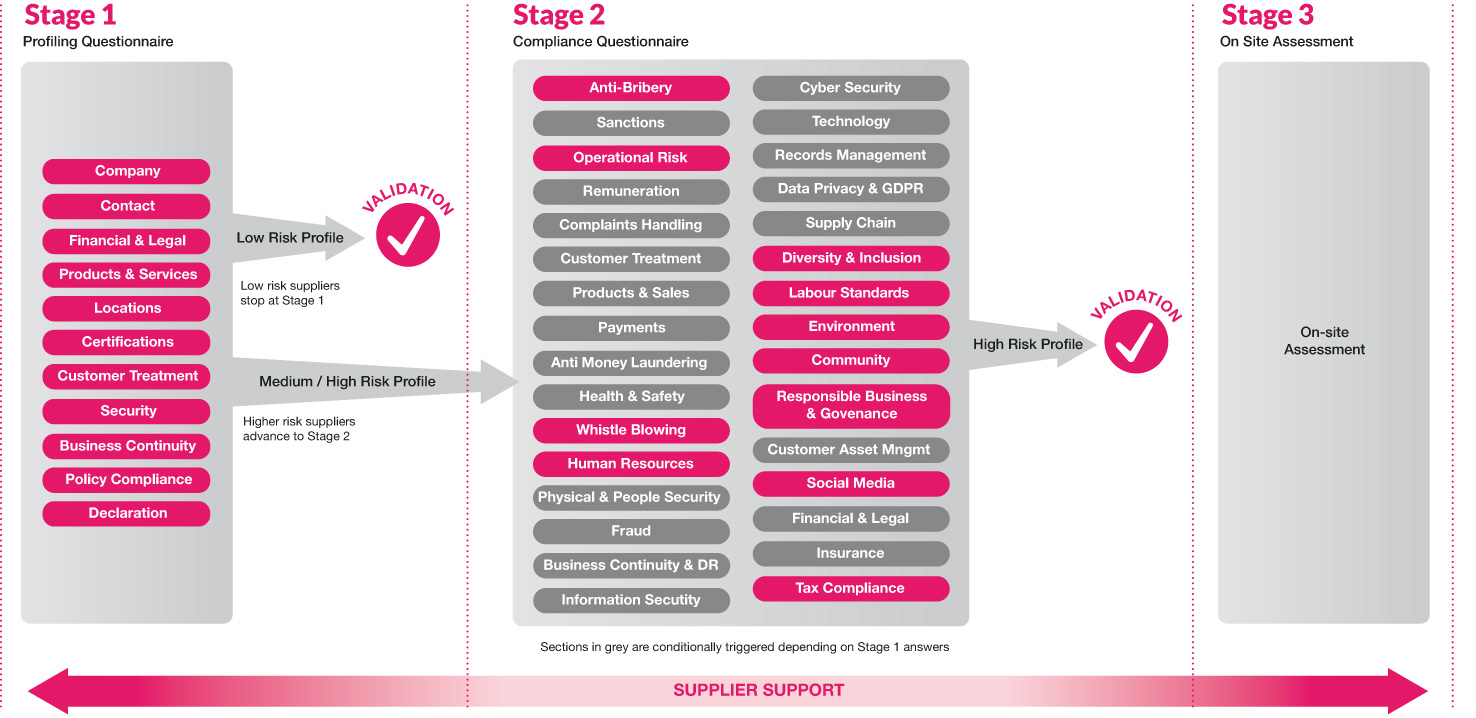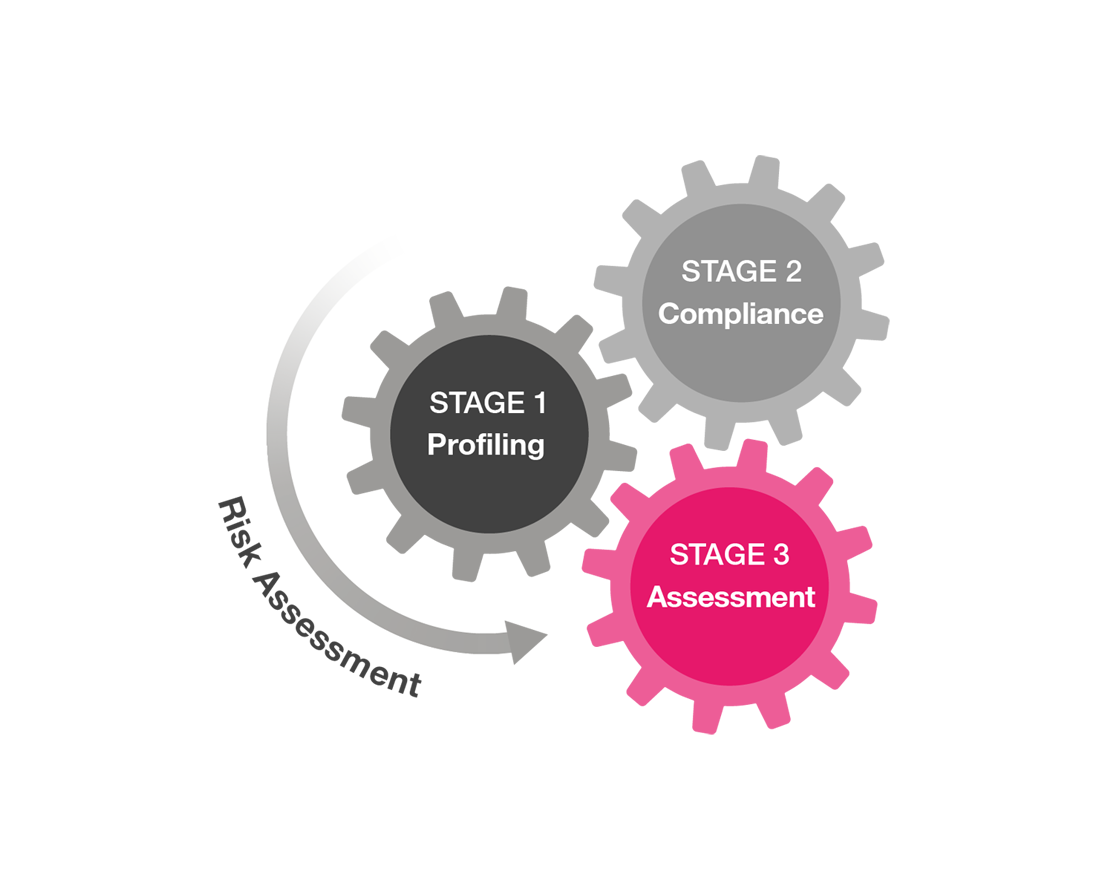 Compliance assessment
Stage 3 involves an onsite assessment to test a number of the key areas in Stage 2, including cyber security, business continuity, data privacy, fourth parties, and conduct risk. Stage 3 is applicable for suppliers of services where more detailed due diligence is needed to demonstrate regulatory and legal compliance.
Hellios' expert team of validators check all information that is submitted against strict guidelines set by the buyer members of the community and work with each supplier to ensure the information is as accurate as possible before being published on the FSQS system.
Once published, buyer members can access the supplier's information securely and use in searches, reports and graphical dashboards to help manage the due diligence and compliance process.
FSQS Case Studies
What our Buyers and Suppliers are saying
"By standardising third-party supplier' due diligence, each supplier has the chance to unlock access to the whole banking sector through one streamline process."
"Our good sense approach to business is no different to our relationship with valued suppliers. The Financial Services Supplier Qualification System makes partnering with Shawbrook simpler, fairer and more transparent."
"FSQS is a living system that develops as the regulatory and risk landscapes evolve – we are already starting to look at how we might be able to further extend buyer cooperation to mutual benefit in the future. I look forward to seeing the system flourish further over coming years."
Over time, LV= has benefited considerably from the amount of time we saved searching for supplier policy compliance information and knowing it to be validated and up to date. We also continually benefit from the connections that FSQS has provided through its Governance Groups and forum discussions and this has enabled us as a business to maintain best practices which can be validated by other leading industry professions.
"We joined the FSQS community to help simplify and improve the way we and our suppliers manage compliance and risk to our customers."
"FSQS has provided OWB with independent audit of our working practices and a level of compliance and regulation that the marketing communications we design and deliver for our financial servies clients is robust, positioned effectively and cognisant of regulations"
"The Curve Group have recently been awarded a contract with one of the buyers on FSQS to help them to recruit their first Commercial Banking team – their standard turn around on contracts are 30 days+ which would have hampered our implementation plan and therefore the speed at which we could have sourced their team, but because of FSQS qualification, they were able to contract with us within 24 hours."